M. Robinson
Release Date: May 2
From Wall Street Journal and USA Today Bestselling Author M. Robinson comes an enemies to lover, standalone romance.
She's twenty-years younger than me.
Half my age.
And twice the trouble.
After two decades of serving, I come home to find nothing's changed, except her. She's still the
same carefree girl with wild eyes and a smart mouth. A mouth I've wanted to tame for years, but
I couldn't back then and I can't do it now.
This time I have a job to do and she keeps getting in my way. Because removing her from my
life is impossible…
She's my little sister's best-friend.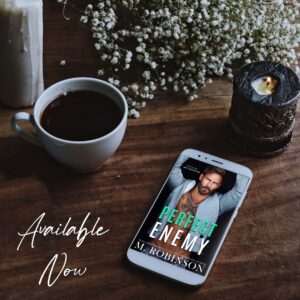 She has done it again yall… Monica Robinson… The Queen of Angst
Perfect Enemy is Cove and Jace's story and what a story it is!
Cove has been in love with Jace from the time she was 8 years old. Even when he shattered her heart after his own mother's funeral.
Fast forward to present day… When Cove finds herself in situations that she could never even dream of, there is only one person with the knowledge and ability to help her is the one person that her heart can't resist, no matter how hard she tries.
"Everything was about to change between us again, and I couldn't have been more ready for it. He was mine. I was his. End of story."
M. Robinson is the Wall Street Journal and USA Today Bestselling author of more than thirty novels in Contemporary Romance and Romantic Suspense. Crowned the "Queen of Angst" by her loyal readers, you'll feel the cut of her pen slicing through your heart as your soul bleeds upon the words of her stories with each turn of the page.
Most notably known for the Good Ol' Boys, M's newest venture has graced her with the #1 Bestseller on Apple Books with Second Chance Contract. The Second Chance Men are powerful, intelligent and will sweep you off your feet and leave you weak in the knees–every woman's wildest dreams.
M. lives the boat life along the Gulf Coast of Florida with her two puppies and real life book boyfriend, the inspiration for all her filthy talking alphas, Bossman.
When she isn't in the cave writing her next epic love story, you can usually spot her mad-dashing through Target or in the drive-thru of Starbucks, refueling. Yes, she's a self-proclaimed shopaholic, but only if she's spending Bossman's money.
You can follow M, Ted, Marley, and Bossman on Facebook, Instagram, and her absolute favorite social platform-TikTok.
Subscribe to her newsletter now to receive exclusive access to upcoming releases, sales, and freebies.
Keep up with M. Robinson and subscribe to her newsletter.
To learn more about M. Robinson & her books, visit here!
Connect with M. Robinson:
https://www.authormrobinson.com/contact
Hosted by: